Careershodh has brought you a great opportunity to clear UGC NET/JRF with the Paper 1. Most Experience faculties with very approached course to save money and time.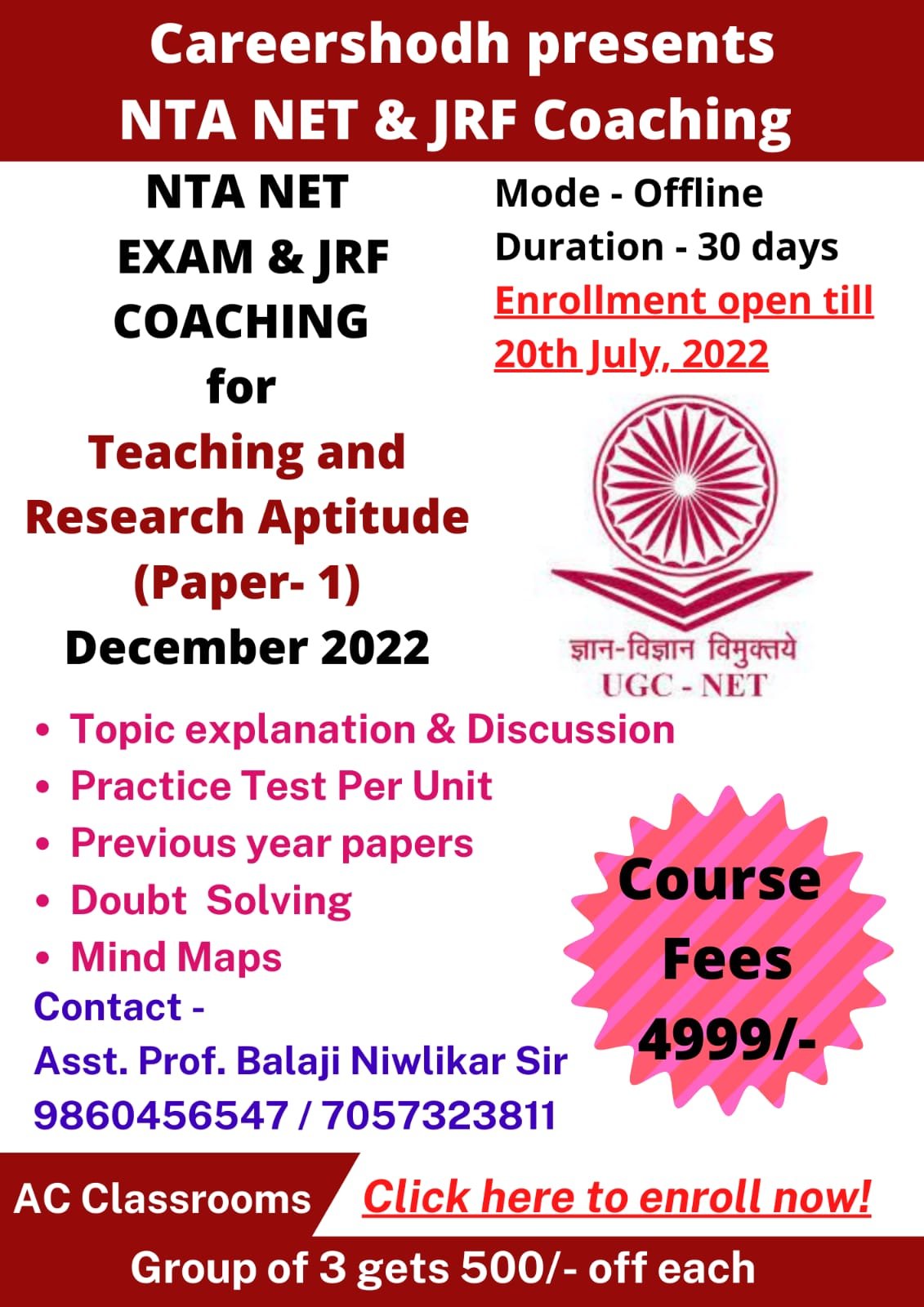 The course duration will be 30 days. Course will start in the first week of August.
Last date of enrolling: 20th July 2022.
Topic to be covered:
Teaching Aptitude
Research Aptitude
Comprehension
Communication
Mathematical Reasoning and Aptitude
Logical Reasoning
Data Interpretation
Information and Communication Technology (ICT)
People, Development and Environment
Higher Education System
Teaching Method:
How to deal with MCQ?
How to use Elimination techniques?
Detailed topic explanation and discussion.
How negative marking is helpful for serious candidates.?
Practice test per unit.
Doubt solving.
Sample entrance test.
Uses of mind maps and mnemonics.
Understanding demand of the exam
Resource Person:
Balaji Niwlikar.
Assistant professor, Nowrosjee Wadia College, Pune.
Expertise:
NET Qualified:
2019 with 99.298 percentile (Paper 1).
2015 & 2014 NET in Psychology.
2019 NET in HRM and labor welfare.
Experience:
5 years teaching for Competitive exams.
4 years of Research- National Research Fellowship.
7 years teaching for BA, MA Psychology.
Course Fees: 4999/-
Group of 3 gets a discount of 500/- each.
Payment Method: Google pay: 9860456547.
Or Contact: 7057323811.
careershodh@gmail.com